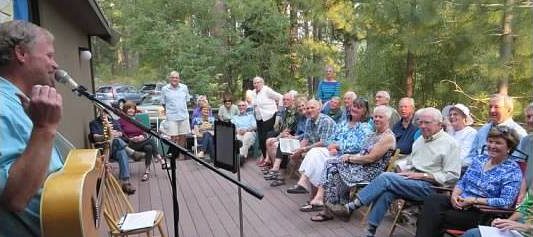 PRIVATE CONCERTS: A private concert in your living room or on your back deck or lawn is a novel, enjoyable, and surprisingly affordable way to spend an evening with a group of friends.
WORKSHOPS: More than just entertaining; these workshops are enlightening and can be adapted for a variety of age groups.
AMERICAN HISTORY: Folksongs are an excellent and fascinating chronicle of history, and a workshop of folk songs from the period being studied adds a fun new dimension. Choose from a variety of topics: The Emigrants/Wagon Trains, The California Gold Rush, Cowboys and the Old West, Railroads and Hobos, The Union Movement, Vietnam: the Anti-War Movement, Topical & Protest Songs, and A portrait of the 60's through the songs of Bob Dylan.
LANGUAGE ARTS: Songwriting is an easy and fun way to teach writing skills and develop an appreciation for poetry.  Students frequently find song lyrics less intimidating than other forms of poetry, and melody improves their ability to hear the meter and enhances their rhyming creativity.
I'm open to ideas for additional workshops, so please let me know what interests you.
I grew up in Wilmington, DE, and Geneva, Switzerland and was home-schooled through the 8th grade. I graduated from Tower Hill School, a small co-ed prep school in Wilmington and received degrees Magna Cum Laude from the University of Delaware in both economics and art. Raised on classical music and Broadway shows, I fell in love with folk music at age 10, when my older brother brought home albums by Pete Seeger and Joan Baez, followed by Peter, Paul & Mary, Tom Paxton, the New Christy Minstrels, and, finally, Bob Dylan. I've been performing in coffeehouses, at colleges, and in concert halls since I was in high school.